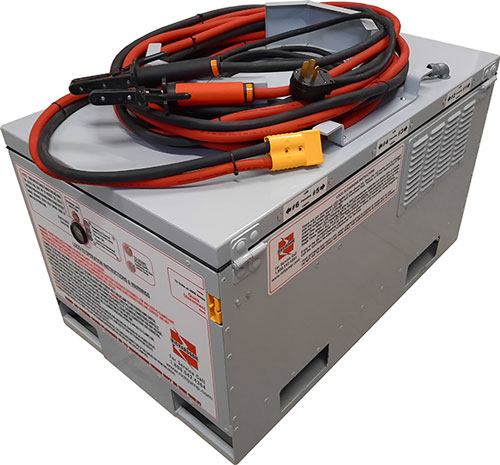 Richardson Locomotive Jumpstarter
Portable battery system for safe use in starting locomotive engines. Requires approximately six hours charge time when fully depleted. AC Mains options are 120VAC 1-phase 50A or 480VAC 3-phase Wye with Neutral and Ground. Features Safety Smart Start 3 Technology with overheat protection, quick disconnect on chassis, reverse polarity protection, and a battery-saving gauge that prevents damage from heavy discharging and lack of charging.
Click here to read the Class 1 Loco-72 Case Study
Transport safety and convenience
12ga steel construction; water resistant chassis; waterproof internal components
Forklift accessible from all 4 sides
Highway-safe D.O.T. approved AGM batteries
Thermal insulation provides shock protection
Designed for Safety
Richardson exclusive Safety Smart Start 3 Technology
Overheat protection of wiring
Quick disconnect on chassis
Reverse polarity protection; Audible and visual alarm indicator
Safe POWER ON with waterproof simultaneous dual button start
Red luminated single POWER OFF button
Large magnetic contactor to guarantee power ON/OFF switching
Welding grade rubber insulated cable inhibits cable damage
Dual forced air fan ventilation prevents any heat or battery outgassing buildup
Built in cable wraps for AC main power cord
Power Specifications
Battery pack supplies nominal 72VDC (locomotive engine running VDC) with CCA rating of 3000 amps
High capacity for numerous engine starts
Wide operational temperature range: from -10°F to 130°F discharge to charge
Approx. six-hour recharge time when fully depleted
AC Mains options are 120VAC 1-phase 50A or 480VAC 3-phase Wye with Neutral and Ground
50ft 4/0 color-coded cable with electrode holders/stingers for easy knife switch connection
Will start any nominal 64VDC locomotive engine
Control panel with lamps, push buttons and battery state of charger meter
Jumpstarters are also available to start other railroad equipment and MOW vehicles.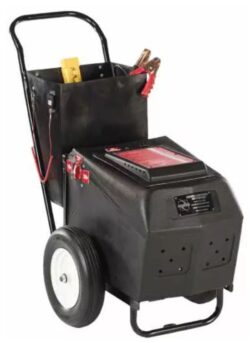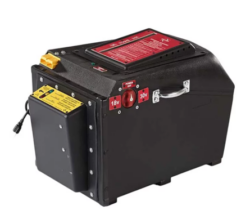 Richardson 30SRC Jumpstarters
RevX-30SRC (rolling chassis model)
Titanll 30SRC (fixed mount model)
Designed to quickly start vehicles ranging from light-duty trucks to heavy equipment multiple times in succession without recharging.  The 18-switch side is for starting 12 Volt vehicles up to 18-liter diesels without harming vehicle ECM or its components. The 30-switch side starts 24-volt vehicles up to 30-liter diesels.
PERFORMANCE:
Three powerful AGM batteries are pre-installed, tested and ready for use.  Richardson's custom 30 Amp charger provides fast recharges. For optimum results, Richardson recommends keep these Jumpstarters plugged into a 110 outlet when not in use.
SAFETY:
Patented Safety Smart Start Technology provides reverse polarity protection with visible and audible warning before current flows to vehicles.
Wireless key fob for remote control start enables safe one-person operation.
No-spark hook up. Overheat protection.
Digital voltage meter.
Operating instructions are engraved on the top of each 30SRC units.
RevX-30S rolling chassis model has 16″ flat free wheels for safe and easy portability.

CABLES/CLAMPS:
800 Amp all copper clamps with high current to both sides of clamps.
RevX-30S is equipped with 10′ set of 2/0 cables with 800 Amp copper clamps.
TitanII-30SRC is equipped with 20′ set of 2/0 cables with 800 Amp copper clamps.

WARRANTY / SUPPORT:
100% repairable, plus lifetime live-tech support
12-month Full Parts & Labor Warranty on manufacturers defects

SIZE/WEIGHT:
RevX – 45″L x 24″W x 42″H; 330 lbs.
TitanII – 30″L x 17.5″W x 18.5″H; 270 lbs
Proudly made in the U.S.A.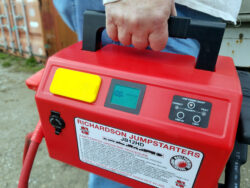 Richardson JB12HD Handheld Jump Box
Starts a wide range of equipment – from 12 Volt to Class 8 diesel engines up to 20 liters – in seconds. Provides multiple consecutive starts without recharging.
PERFORMANCE:
Strongest and safest lithium-polymer (Li-Po) battery pack on the market.
Operates from -22° F to 131° F; (-30°C to 55°C).
660-Watt hours capacity.
For optimum results, Richardson recommends keep this Jump Box plugged into a 110 outlet when not in use.
CABLES/CASE
4′ heavy-duty 2/0 highly flexible welding cable with 800 Amp HD parrot clamps.
Impact resistant case, up to 1.5 meters on concrete surface.
IP3 rated water-resistant case.
SAFETY:
Reverse polarity protection with audible alarm and red LED warning light while in off position.
Over-charge protection, over-deplete protection, and battery-overheat protection
No spark connection.
Operating instructions label displayed on every Jump Box.
OPERATING CONVENIENCE:
Convenient one-person operation for connecting and starting.
3-mode LED Light with 300 lumens and 3800 soft white, illuminates up to 24 continuous hours without recharge
Easy to stow, compact size: 16″W x 9″D x 9″H
Easy to carry at only 24 lbs. total weight
ADDED CONVENIENCE FEATURES:
2 USB Ports for charging CPAP, cell phones, laptops, tablets, and other electronic devices.
12 Volt cigarette lighter output for charging various accessories.
WARRANTY / SUPPORT:   SERVICE/SUPPORT:
All parts can be serviced, repaired and/or replaced.
Warranty – 6 months parts and labor on manufacture defects excluding batteries.
Assembled in the USA.