64VDC Engine Starter / Power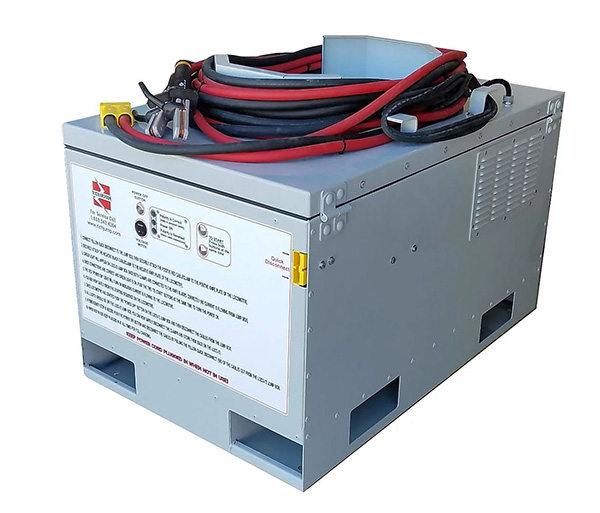 Richardson Locomotive Jumpstarter
Portable battery system for safe use in starting and as a supplemental battery power source for service.  Provides six to eight-hour charge time from AC mains 120VAC single phase 50 amp to 480VAC 3 phase with neutral. Safety Smart Start 3 Technology with overheat protection, quick disconnect on chassis, reverse polarity protection, and battery saving gauge prevents damage from heavy discharging and lack of charging.
Transport safety and convenience
12ga steel construction; water resistant chassis; waterproof internal components
Forklift accessible from all 4 sides
Highway-safe D.O.T. approved AGM batteries
Thermal insulation provides shock protection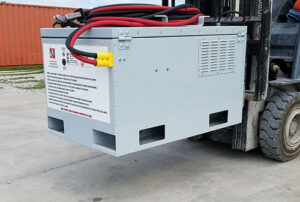 Designed for Safety
Richardson exclusive Safety Smart Start 3 Technology
Overheat protection of wiring
Quick disconnect on chassis
Reverse polarity protection; Audible and visual alarm indicator
Safe POWER ON with waterproof simultaneous dual button start
Red luminated single POWER OFF button
Large magnetic contactor to guarantee power ON/OFF switching
Welding grade rubber insulated cable inhibits cable damage
Dual forced air fan ventilation prevents any heat or battery outgassing buildup
Built in cable wraps for AC main power cord
Power Specifications
Battery pack supplies nominal 72VDC (locomotive engine running VDC) with CCA rating of 3000 amps
Battery rating one third typical starting battery for long service times and numerous engine starts
Operational discharge from 140°F to 140°F; Charging from -10°F to 130°F
Six-hour charge time from AC mains120VAC single phase 50 amp, six-hour to 480VAC 3 phase with neutral
50ft 4/0 color-coded cable with clamps for easy knife switch connection
Will start any nominal 64VDC locomotive engine
Control panel with lamps, push buttons and battery state of charger meter
Jumpstarters are also available to start other railroad equipment and MOW vehicles.
Richardson RevX-30S (rolling chassis model) are designed to quickly start passenger cars and trucks, class 3-5 trucks, heavy equipment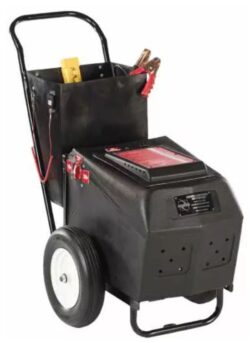 Richardson Titan ll 30S (fixed mount model) are designed to quickly start vehicles from light duty 12V trucks to 24V heavy equipment (up to 30-liter diesels) multiple times without needing recharge.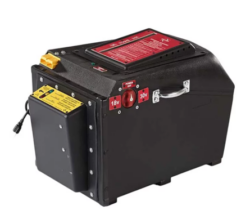 Richardson JB12HD Portable (handheld) starts 12 volt starting systems from gas powered lawnmowers up to a Class 8 – 20L diesel engine in seconds.